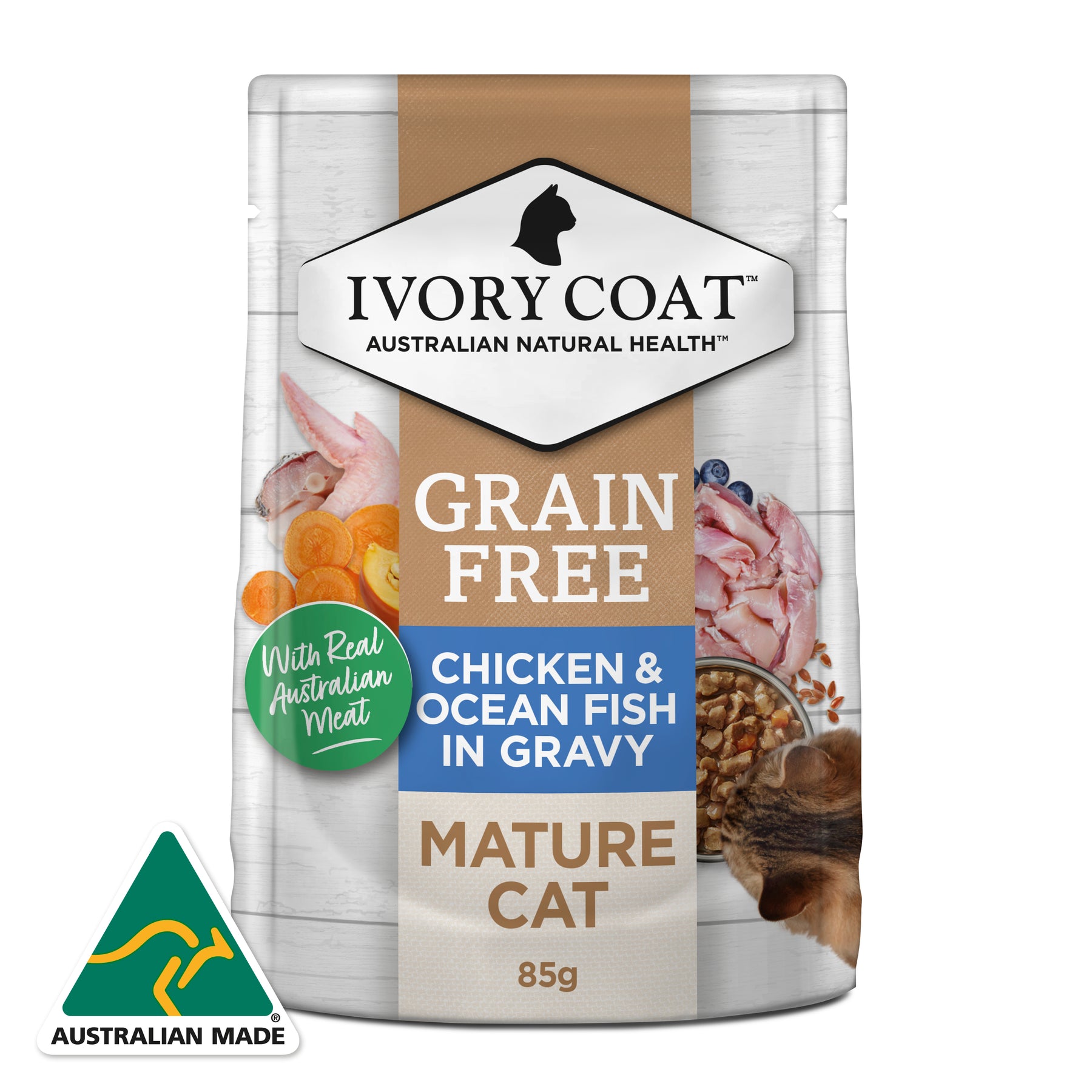 Grain Free Mature Adult Wet Cat Food Chicken & Ocean Fish in Gravy 85g
As obligate carnivores our feline friends have very specific nutritional requirements, and to deliver the best in Australian Natural Health ™ Ivory Coat's Grain Free Cat range offers a variety of delicious flavours they will love with the nutrition and animal protein they need.

Ageing cats are defined as older or senior when they have reached the last 25% of their expected lifespan which is directly related to size or breed, as well as the care received during their lifetime.

A senior diet, such as Ivory Coat GF Chicken and Ocean Fish should be introduced as soon as ageing signs appear. As fat stores increase as the cat gets older and lean muscle mass reduces then altering the ratio of muscle to body fat is important. This is why we have formulated our Ivory Coat GF Salmon & Chicken with lower fat levels to help manage weight in older cats, and we add Vitamin E for immune support for senior cats.
Australian meat is our #1 Ingredient to deliver quality protein for lean muscle maintenance. Chicken has a high digestibility, it's a good source of protein and nutrients to help maintain healthy organs. We also use carefully selected ingredients to provide natural sources of grain free complex carbohydrates and fibre to help support a healthy gut.

A natural superfood blend (including Tomato, Apple, Carrot, Pumpkin, Kale, Blueberries, Spinach & Cranberries) is added as a source of antioxidants, as well as Omega 3 & 6 to help support healthy skin & coat. A natural pre-biotic is also included to support healthy digestion, and essential vitamins and minerals ensure your cat is provided with their complete daily nutrition.

Not only does Ivory Coat taste delicious, it contains NO added wheat, corn, rice or soy, and is formulated with no added artificial colours, flavours or preservatives. We use only quality ingredients for a great tasting, digestible and nutritious meal.
Complete & Balanced Nutrition
Omega Rich for Healthy Skin & Coat
Meat #1 Ingredient
High quality protein for lean muscle maintenance
Superfoods Source of Natural Antioxidants
Provides essential hydration
Low calorie density for healthy weight management 
No Added Artificial Colours, Flavours, and Preservatives
Meats (Chicken, Liver And/Or Animal Protein), Vegetables (Carrots, Pumpkin), Flavours, Egg Powder, Starch, Ocean Fish, Vitamins & Minerals, Pea Flour, Gelling Agents, Oils (including Flaxseed Oil, Fish Oil), Amino Acids, Natural Colour, Natural Antioxidants, Taurine, Blueberry
The feeding amounts shown above should be seen as a guide only. Your pet may need more or less to maintain its proper weight depending on your pet's age, breed and activity level. If feeding for the first time, mix increasing amounts of the new food whilst decreasing the old food over a period of 5 to 7 days.
FAQ
Below you will find some common questions asked by our customers.
Visit our Support (FAQ) page for more information.
Introducing any new food to your dog should be done gradually, so as to avoid the risk of any stomach upsets. If you're introducing a new type of food, or variety, we recommend doing it over the course of a week. As per the diagram below, start by substituting your dog's current food with just 25% of the new Ivory Coat food you're introducing. To ensure you're feeding your dog the correct amount overall, be careful to substitute 25% of the recommended portion size that's included on each pack - don't just fill up the remaining space. Over the course of the week, provided your dog adjusts well, you can then increase the percentage of the new food, so it eventually replaces the previous option entirely.
You can feed your pet one or two meals a day with our foods. If feeding twice daily, be sure to split the daily feeding amount in half for each meal. Feeding more than once a day may help to prevent bloat and aid in better digestion.
Yes, all of our foods meet the Australian standards and those of the AAFCO – could expand to Yes, all of our foods meet the Australian standard and nutrition guidelines of the Association of American Feed Control Officials (AAFCO).