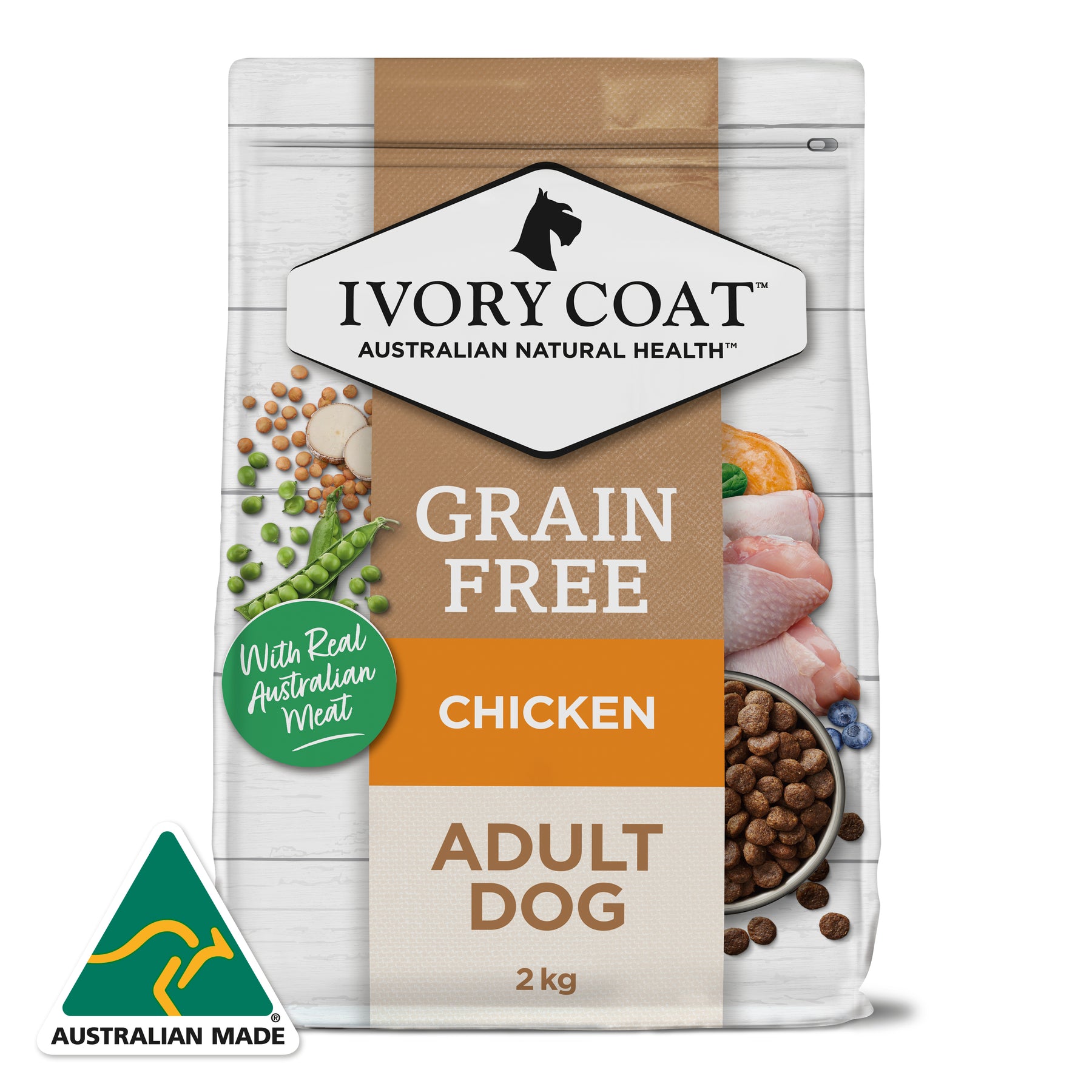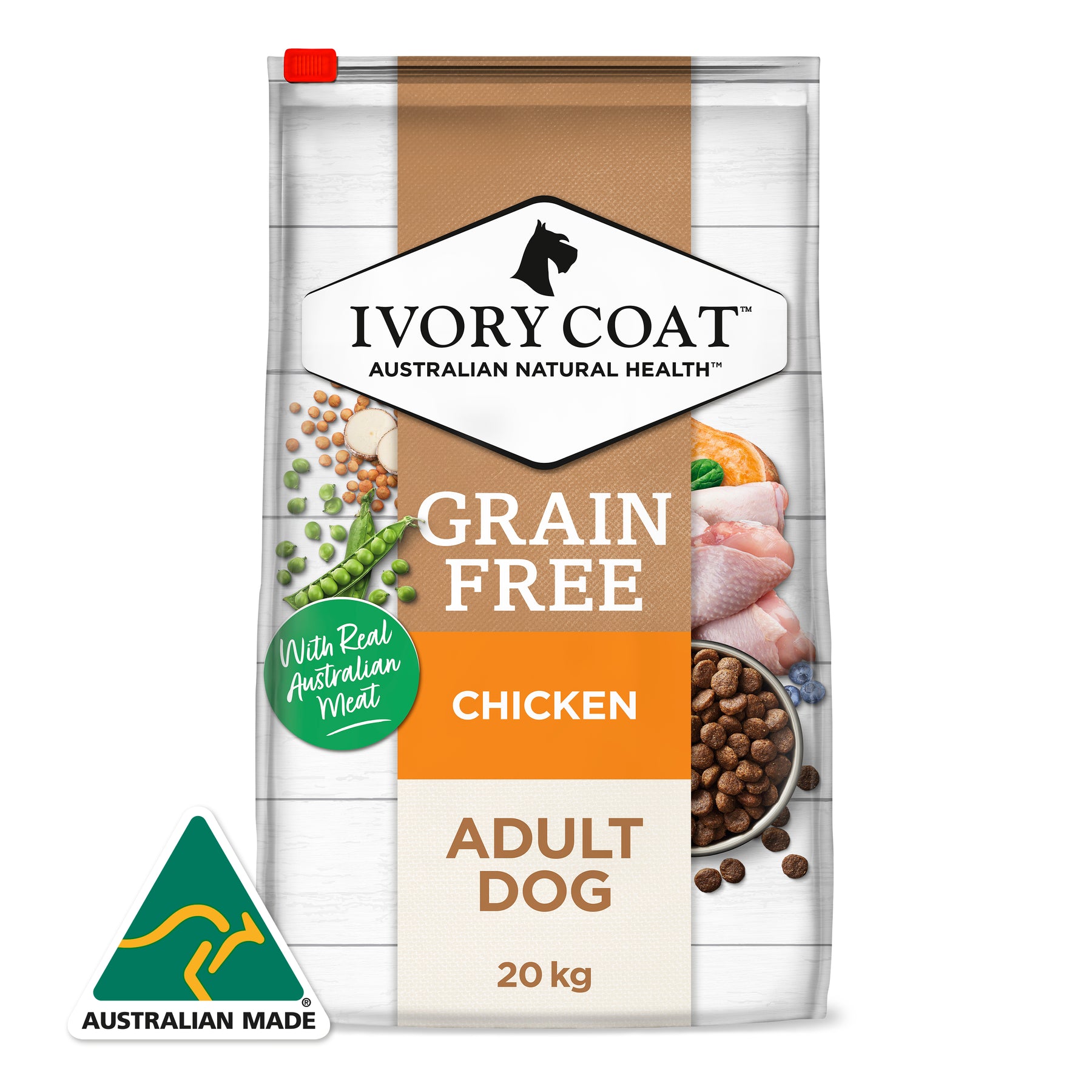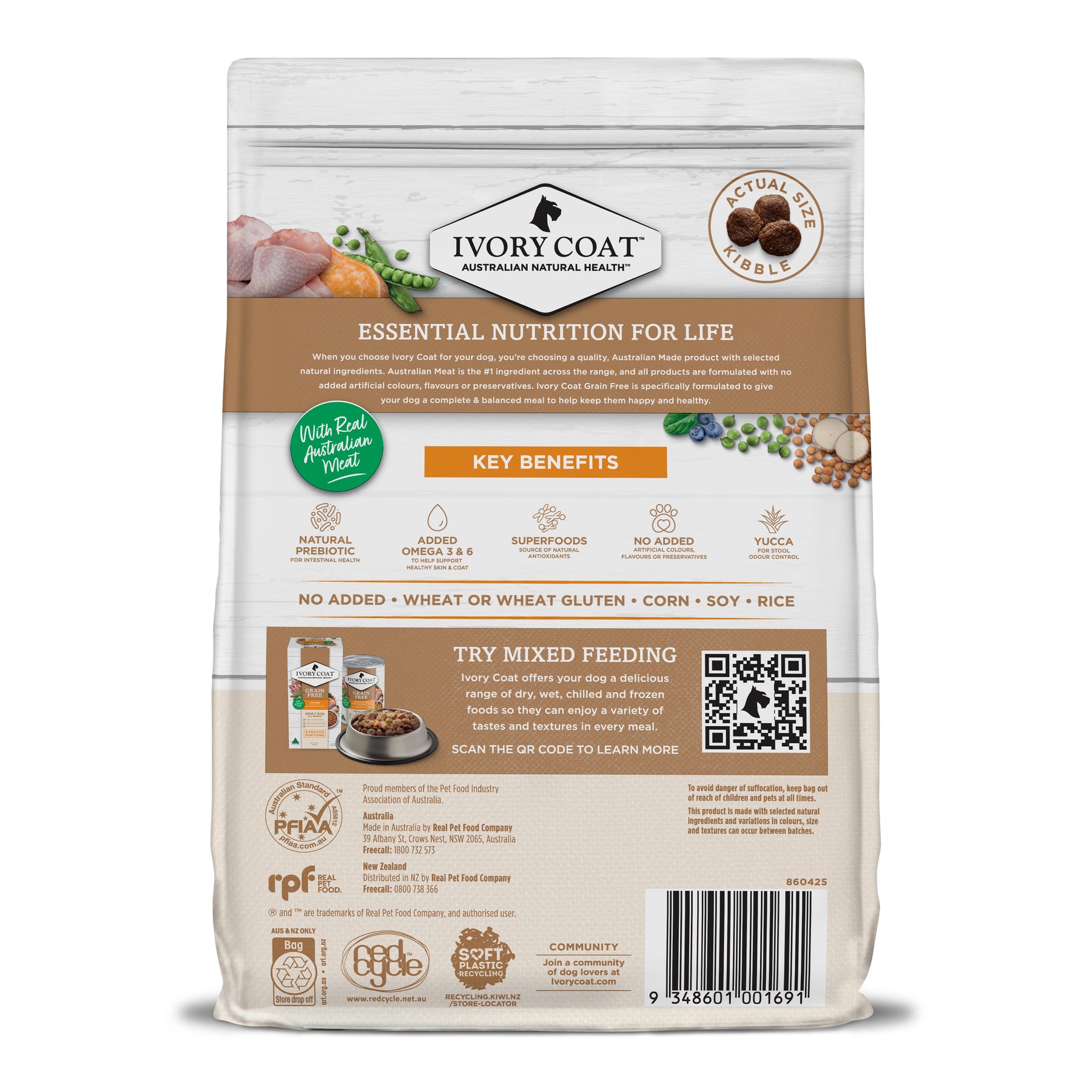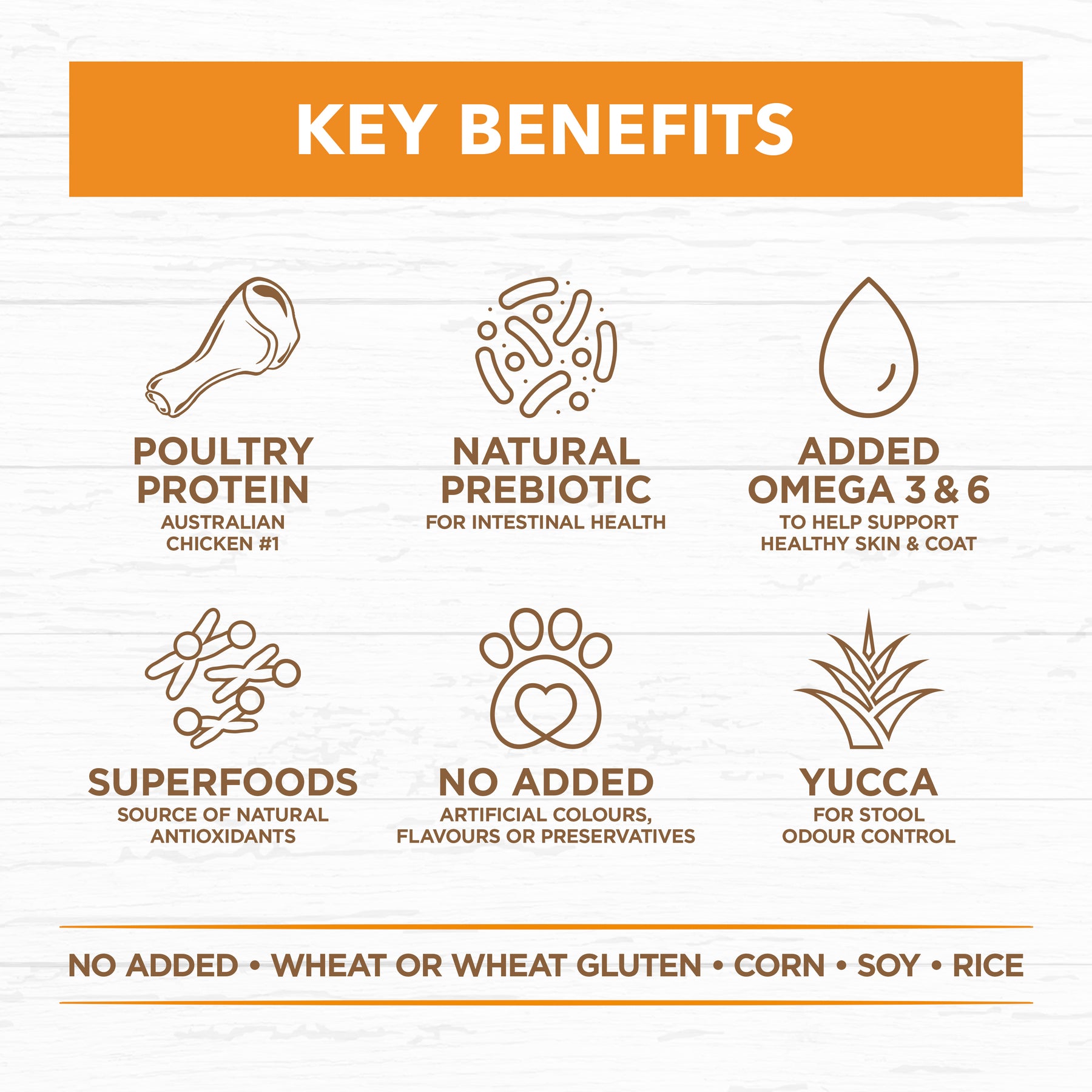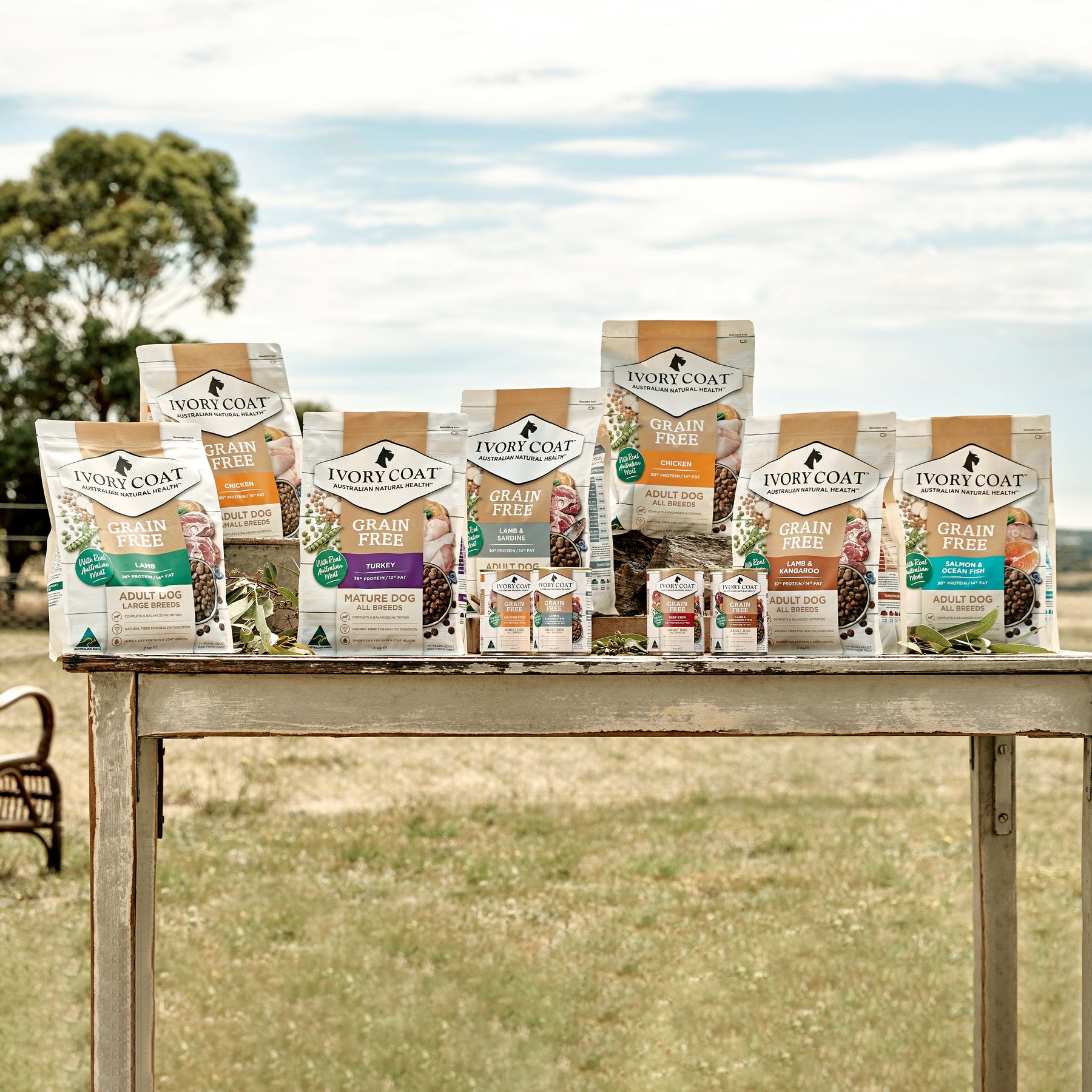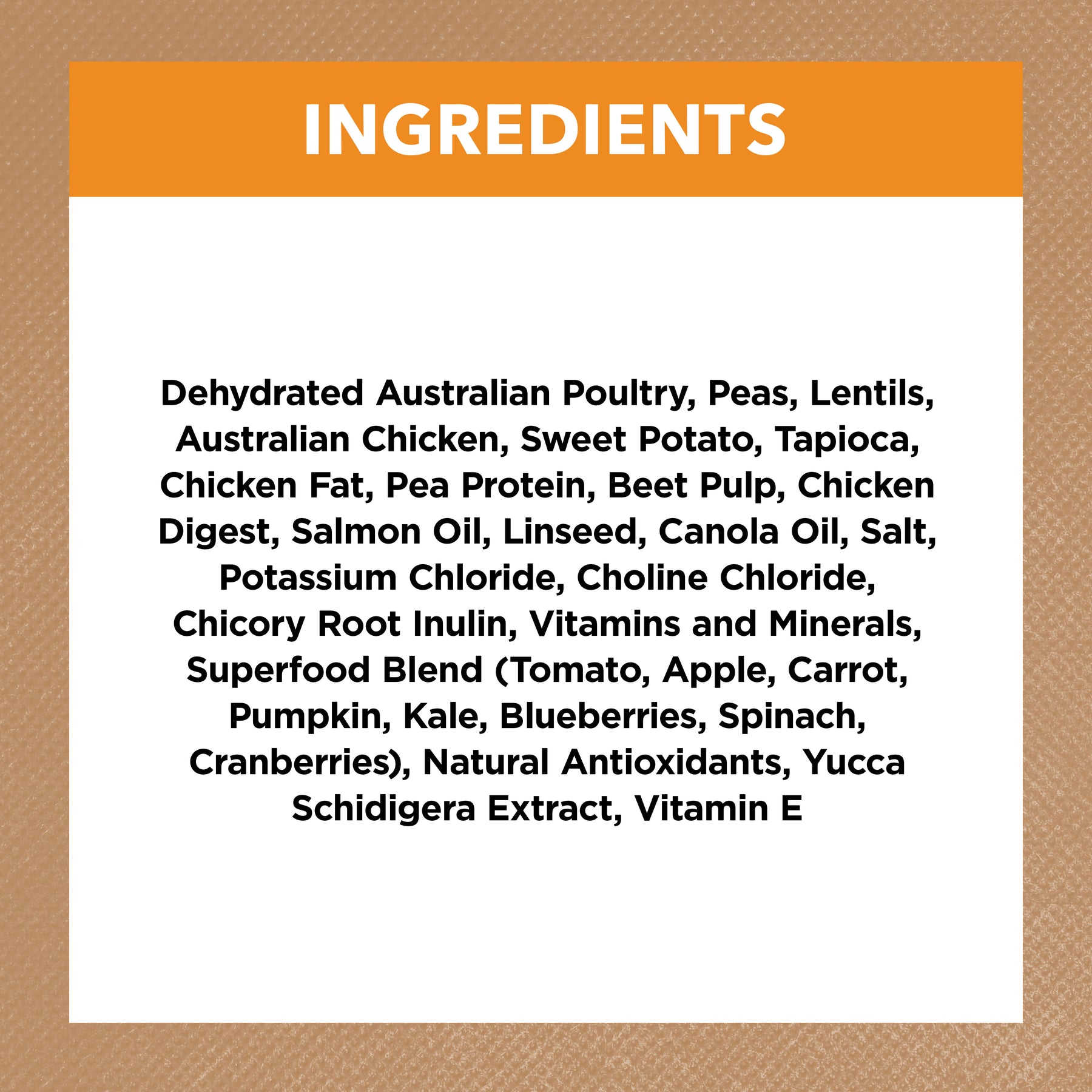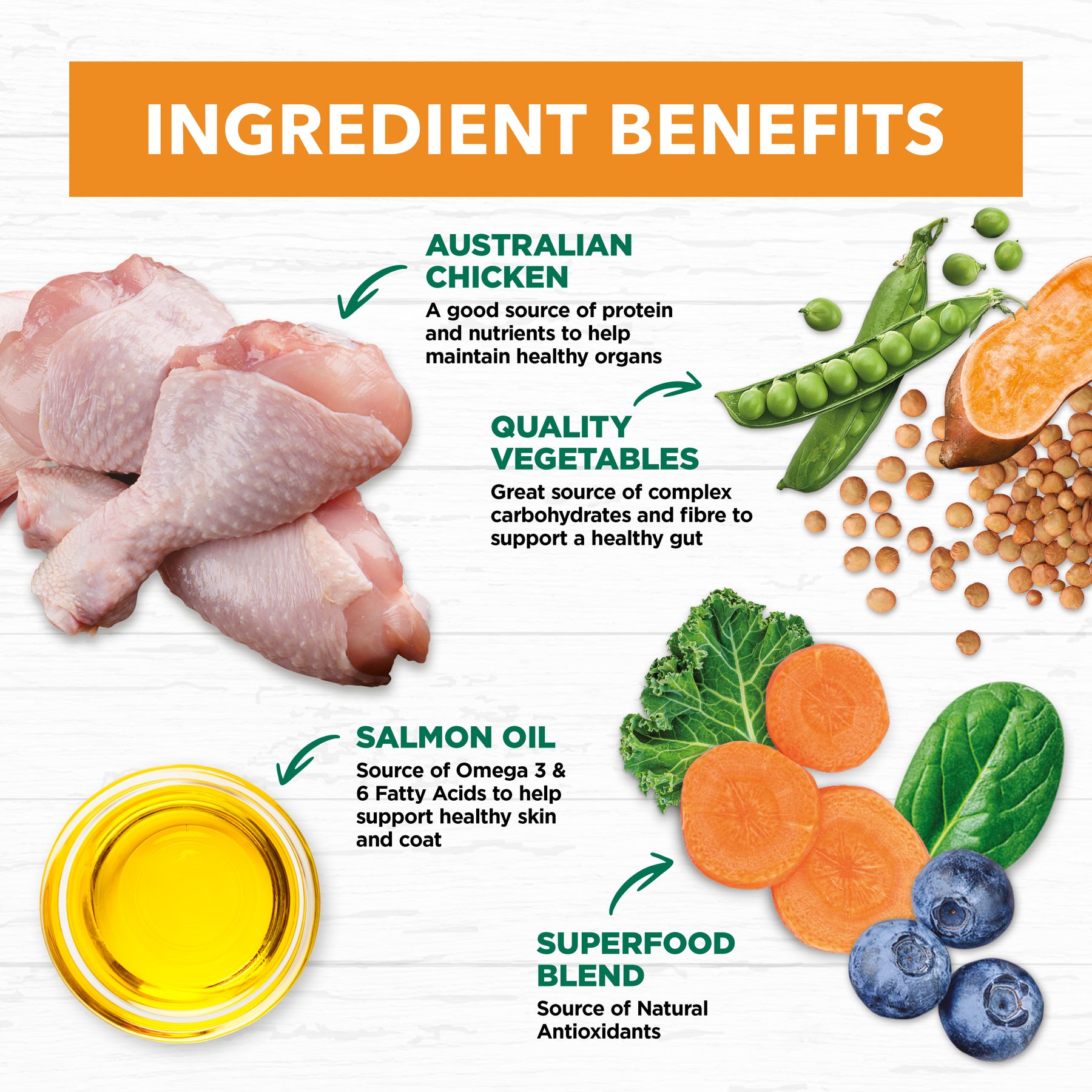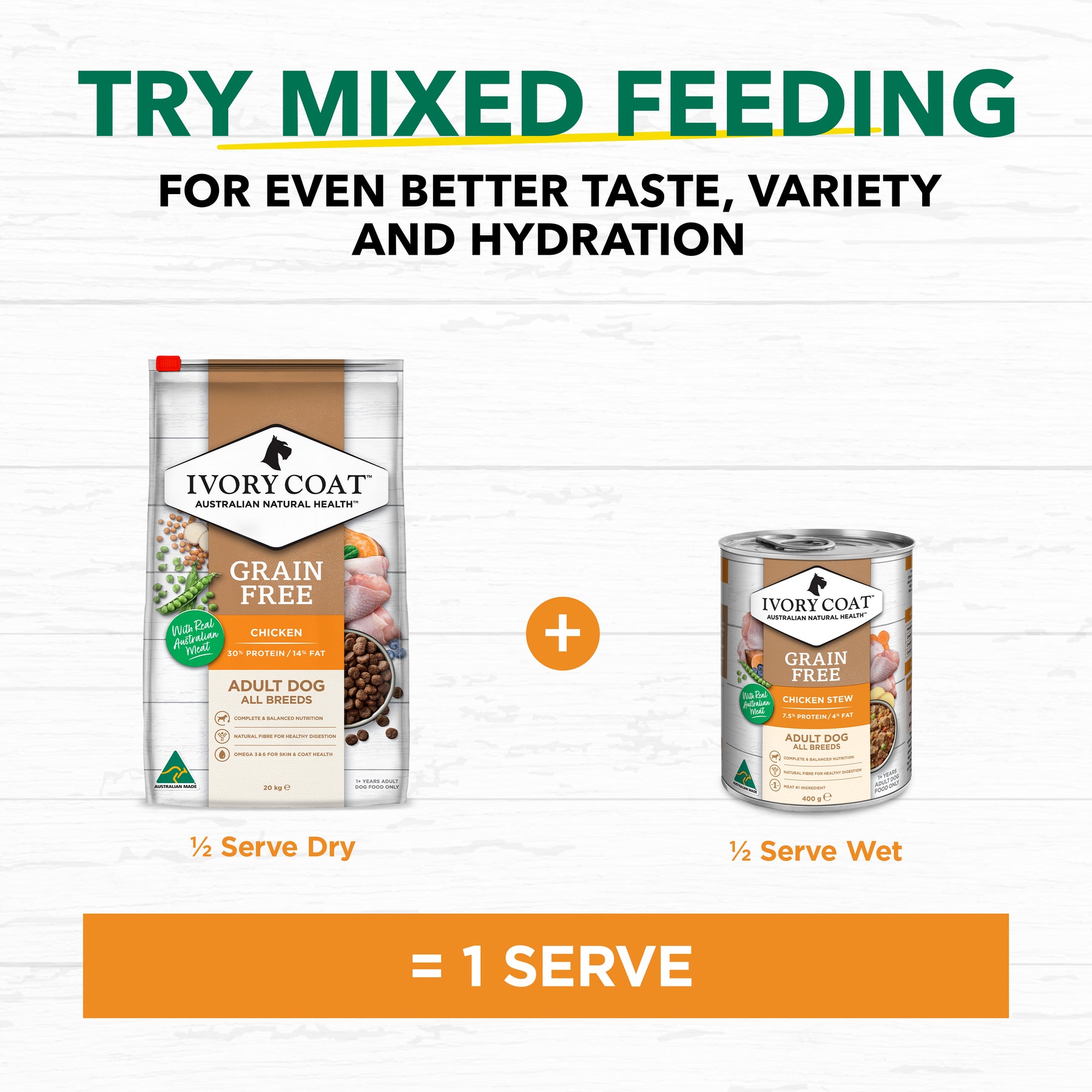 Grain Free Adult All Breeds Dry Dog Food Chicken
Just like us, some dogs may be more sensitive than others when it comes to certain ingredients – even natural grains. Feed your sensitive mate with confidence with Ivory Coat's specifically formulated Grain Free products.

Our Grain Free Chicken formula contains only poultry protein, tailored for dogs who are sensitive with other protein sources.

Australian meat is our #1 Ingredient to deliver quality protein for lean muscle maintenance. We also use carefully selected vegetables to provide sources of grain free complex carbohydrates and fibre to help support a healthy gut. A natural superfood blend (including Tomato, Apple, Carrot, Pumpkin, Kale, Blueberries, Spinach & Cranberries) is added as a source of antioxidants, as well as Omega 3 & 6 to help support healthy skin & coat. A natural pre-biotic is also included to support healthy digestion, and essential vitamins and minerals ensure your best mate is provided with their complete daily nutrition.

Not only does Ivory Coat taste delicious, it contains NO added wheat, corn, rice or soy, and is formulated with no added artificial colours, flavours or preservatives. We use only quality ingredients for a great tasting, digestible and nutritious meal.
Single source poultry protein formula for sensitive dogs
With Real Australian Meat
Grain Free
Complete & Balanced Nutrition
Quality protein for lean muscle maintenance
Natural fibre for healthy digestion and firmer stools
Omega 3 & 6 for healthy skin and coat
Yucca for stool odour control
Natural prebiotics for the beneficial growth of healthy gut microflora
Superfoods source of antioxidants
No added artificial colours, flavours or preservatives
Meets the AAFCO nutritional guidelines for Adult Maintenance
No added wheat or wheat gluten, corn, soy or rice
Dehydrated Australian Poultry, Peas, Lentils, Australian Chicken, Sweet Potato, Tapioca, Chicken Fat, Pea Protein, Beet Pulp, Chicken Digest, Salmon Oil, Linseed, Canola Oil, Salt, Potassium Chloride, Choline Chloride, Chicory Root Inulin, Vitamins and Minerals, Superfood Blend (Tomato, Apple, Carrot, Pumpkin, Kale, Blueberries, Spinach, Cranberries), Natural Antioxidants, Yucca Schidigera Extract, Vitamin E.
The feeding amounts shown above should be seen as a guide only. Your pet may need more or less to maintain its proper weight depending on your pet's age, breed and activity level. If feeding for the first time, mix increasing amounts of the new food whilst decreasing the old food over a period of 5 to 7 days.
FAQ
Below you will find some common questions asked by our customers.
Visit our Support (FAQ) page for more information.
Introducing any new food to your dog should be done gradually, so as to avoid the risk of any stomach upsets. If you're introducing a new type of food, or variety, we recommend doing it over the course of a week. As per the diagram below, start by substituting your dog's current food with just 25% of the new Ivory Coat food you're introducing. To ensure you're feeding your dog the correct amount overall, be careful to substitute 25% of the recommended portion size that's included on each pack - don't just fill up the remaining space. Over the course of the week, provided your dog adjusts well, you can then increase the percentage of the new food, so it eventually replaces the previous option entirely.
You can feed your pet one or two meals a day with our foods. If feeding twice daily, be sure to split the daily feeding amount in half for each meal. Feeding more than once a day may help to prevent bloat and aid in better digestion.
Yes, all of our foods meet the Australian standards and those of the AAFCO – could expand to Yes, all of our foods meet the Australian standard and nutrition guidelines of the Association of American Feed Control Officials (AAFCO).